Dr. Johannes Stübinger
Dr. Johannes Stübinger
Lehrbeauftragter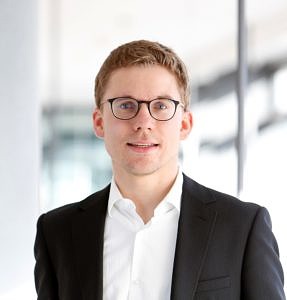 Fachbereich Wirtschafts- und Sozialwissenschaften
Lehrstuhl für Statistik und Ökonometrie
Telefon: +49 911 5302-290
Fax: +49 911 5302-481
Lange Gasse 20
90403 Nürnberg
Sprechzeiten: Nach Vereinbarung
Kurzlebenslauf
| | |
| --- | --- |
| seit 08/2018 | Data Scientist, Siemens AG |
| seit 08/2018 | Lehrbeauftragter an der Friedrich-Alexander-Universität Erlangen-Nürnberg und an der Technischen Hochschule Deggendorf |
| 04/2018 | Promotion zum Dr. rer. pol., Thema: Essays on Quantitative Finance in the context of Statistical Arbitrage (Promotionspreis der Staedtler Stiftung) |
| 10/2015 – 07/2018 | Wissenschaftlicher Mitarbeiter am Lehrstuhl für Statistik und Ökonometrie der Friedrich-Alexander-Universität Erlangen-Nürnberg |
| 10/2010 – 09/2015 | Studium der Wirtschaftsmathematik an der Friedrich-Alexander-Universität Erlangen-Nürnberg |
Forschungsschwerpunkte
Machine learning and aritifical intelligence
High-performance computing (GPUs, Amazon Web Services, Azure)
Big Data Analytics
Capital market anamolies
Daily and high-frequency data
Lehre
SS 20: Anwendung statistischer Methoden im Risikomanagement von Finanzinstituten
WS 19/20: Extremwertstatistik mit Anwendungen in Finanz- und Versicherungsmärkten
SS 19: Anwendung statistischer Methoden im Risikomanagement von Finanzinstituten
SS 19: Mathematik für die Studiengänge Künstliche Intelligenz, Elektrotechnik, Medientechnik, Bauingenieurwesen, Umweltingenieurwesen
WS 18/19: Extremwertstatistik mit Anwendungen in Finanz- und Versicherungsmärkten
SS 18: Nichtparametrische statistische Verfahren
SS 18: Statistik
WS 17/18: Rechnergestützte Fallstudienübung Statistik
WS 17/18: Angewandte Analyse von Zeitreihen- und Finanzmarktdaten
SS 17: Nichtparametrische statistische Verfahren
SS 17: Statistik
WS 16/17: Angewandte Analyse von Zeitreihen- und Finanzmarktdaten
WS 16/17: Rechnergestützte Fallstudienübung Statistik
SS 16: Statistik
WS 15/16: Statistik
Publikationen mit Begutachtungsprozess
Konferenzen
Beat the bookmaker – Winning football bets with machine learning (Best Refereed Application Paper). Thirty-eighth SGAI International Conference on Artificial Intelligence, Cambridge, December 2018.
Using higher-order factorization machines for enterprise value prediction. Research Series of GfK, Nürnberg, October 2017.

Financial market predictions with Factorization Machines: Trading the opening hour based on overnight social media data. CEQURA Conference 2017 on Advances in Financial and Insurance Risk Management, München, September 2017.